Formation Teacher
Blackpool Sequence Dance Festival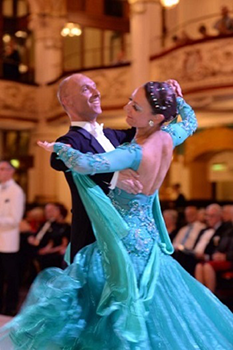 The Blackpool Sequence Dance Festival marks it's 70th anniversary this year, in the impressive Empress Ballroom, Winter Gardens. The festival's format has changed over the years and it now covers Classical, Modern and Latin Sequence Dancing.
The festival accomodates both Children and Adult competitions. The children dance on Saturday 19th October and the adults on Sunday 20th, Monday 21st and Tuesday 22nd. The British Sequence Championships are held on all three evenings.
The Inventive Dance competition is held on Monday 21st. The catogories are Classical Sequence, Modern Sequence and Latin Sequence. The winning dances are then taught on Tuesday morning to associates, members and fellows affiliated with the British Dance Council, and then to members of public in the afternoon.
There is plenty of opportunity for social dancing in between the competitions and also on Sunday, Monday and Tuesday afternoon.
Applications are now open for the 2019 Sequence Dance Festival. Please find all documents necessary to apply as a spectator or a competitor below. Once completed, please send applications via email to: dancefestival@wintergardensblackpool.co.uk or send in the post to the Dance Festival Office.
70th Sequence Dance Festival Syllabus
Next Event: 19th – 22nd October 2019
Future Dates: 17th – 20th October 2020