Blackpool Sequence Dance Festival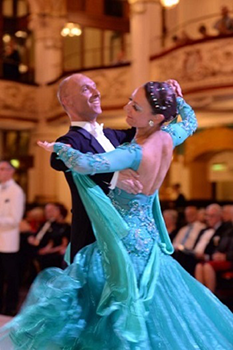 The Blackpool Sequence Dance Festival covers Classical, Modern and Latin Sequence Dancing. The format has changed over the years and 2009 saw the 60th anniversary of the Championships held in the Empress Ballroom, Winter Gardens.
The Festival takes on two separate events, the Children's and Adult's dancing. The Saturday is devoted to the children who dance in various competitions. The Adult's dance on Sunday, Monday and Tuesday. The Inventive Dance competition is on the Monday with the Winning Dances being taught on the Tuesday morning. The British Sequence Championships are held on all three evenings.
There is plenty of opportunity for social dancing in-between the competitions and also on Sunday, Monday  and Tuesday afternoon.